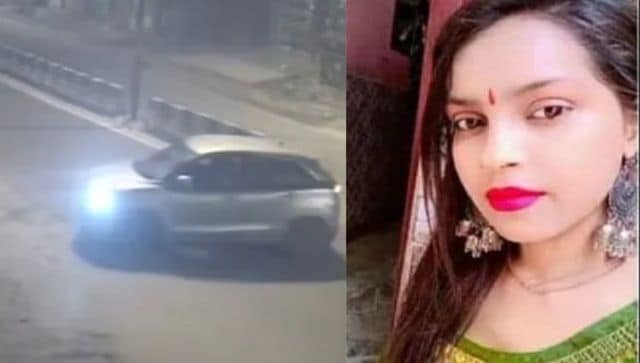 Anjali Singh's friend had claimed that the victim consumed alcohol on the night of the accident. ANI
In case you missed what I think is one of the best web series to come out of India in 2022, Ghar Waapsi––a nuanced and loving show that is at once soothing and enlightening––watch it. It is not unlike the story of many young people who leave their hometowns for greener pastures only to find that family is where the heart belongs. I remember leaving my incredibly well-paid job in Switzerland at the age of 25 and returning to Mumbai because I missed my family and friends. This was much to the dismay of my uncle and aunt, whose judgment of me was derailed only because of my brother's simultaneous decision to become a stand-up comedian, where the trial-for-society directed its anger at my parents who had raised such ' deviant children who shun foreign wages and become 'stand-of Comedians.
Leaving behind a regular paycheck to go home is one thing, but what justifies 25% of Indian women dropping out of the workforce? Do the blood curdling stories in the news have anything to do with it? Every day we hear about young working girls like Anjali Singh, who was mowed down last week after work by five drunken men, her body stretched for 12 km until even her brain matter was found. Or Shraddha whose body was cut into 35 pieces by her live-in partner Aftab Poonawalla. Or the recent case of 19-year-old Ankita who was murdered at a resort in Rishikesh by owner Pulkit Arya for refusing to indulge in prostitution as part of her job. The most brutal of brutal crimes in the rarest of rare cases, and the one thread they have in common – young working women. Sorry, young working man vulnerable women, some of whom were the sole breadwinners of the family.
Look around and ask any woman in India. We women have spent every second of our lives not being raped, abused and killed by the men around us. Fear is our constant companion if we are out after dark, out on the roads, out of our homes, and especially out of our hometowns. And it is not only the perpetrators' fault, but also the judiciary, the police, the politicians and the parents who raise their sons badly. The only reason why Anjali, Shraddha and Ankita are dead and we are not is because of luck. That's it! It's the only thing keeping us safe so far. Not the law, not the police, not society, and definitely not the humanity, or lack thereof, that this country seems to suffer when it comes to women's safety.
What is the narrative being spun for working women in India? These are the women who have been thrown off cliffs, mowed down and dragged under cars, cut into pieces, raped, mutilated and brutalized. Why? Because they went to work. Not only do these young women become cautionary tales with parents and in-laws who use their example as an excuse to not 'let' their daughters and daughters-in-law go to work, but they are also classic narratives of women seen only in binaries. Women seen as dayins, i.e. women with their own bank account and identity, who, when they pay the price with their lives, are immediately hailed as devis. But we women don't want to be your devi or your dayin, we don't want to be reduced to a mere statistic of horrible working environments for women, another number adding to the dwindling female workforce. We want to be normal women who can go to work and contribute to the economy without paying a price for it. Paid work is meant to present new avenues for women and increase our representation, not reinforce cruel inequalities.
The shaming of these girls is also another real shame. Even if the allegations that Anjali was drinking and partying are true, does that mean she deserves to be dragged under a car for an hour by monsters? Even if Shraddha did not leave her abuser in the name of love, does she deserve to have her body strangled, mutilated and sawn? This construction of a perfect prototype for victims must stop if we want true justice. Ergo: Instead of giving women moral lessons, give men the same lessons. Instead of teaching women to fear the dark, teach men to fear the system. Instead of shaming the victims, shame the bloody perpetrators!
All I want to say is––ladies, let's not be afraid. Let's not be afraid to chase our dreams, go to work, go out after dark or occupy public spaces. Let us own what also belongs to us. If we are going to be killed, at least let us be killed for being brave enough to pursue our dreams and not because we were cowards who let our dreams be wasted on people who don't deserve an iota of our time. If we tremble now, if we are bullied, we will not only undo all the hard work of the women before us because of who we can leave the kitchen, but also destroy the future of the women after us who will be forced back into the kitchen. kitchen. Let's keep up the courage, my working friend, and let it ghar waapsi happen for the right reasons.
In an age where we fetishize opinions we don't own, the weekly 'Moderate Mahila Mandate' presents an unadulterated and non-partisan view of what is happening to women in India today.
Meghna Pant is a multiple award-winning and best-selling author, screenwriter, columnist and speaker, whose latest novel BOYS DON'T CRY (Penguin Random House) will soon be seen on the big screen.