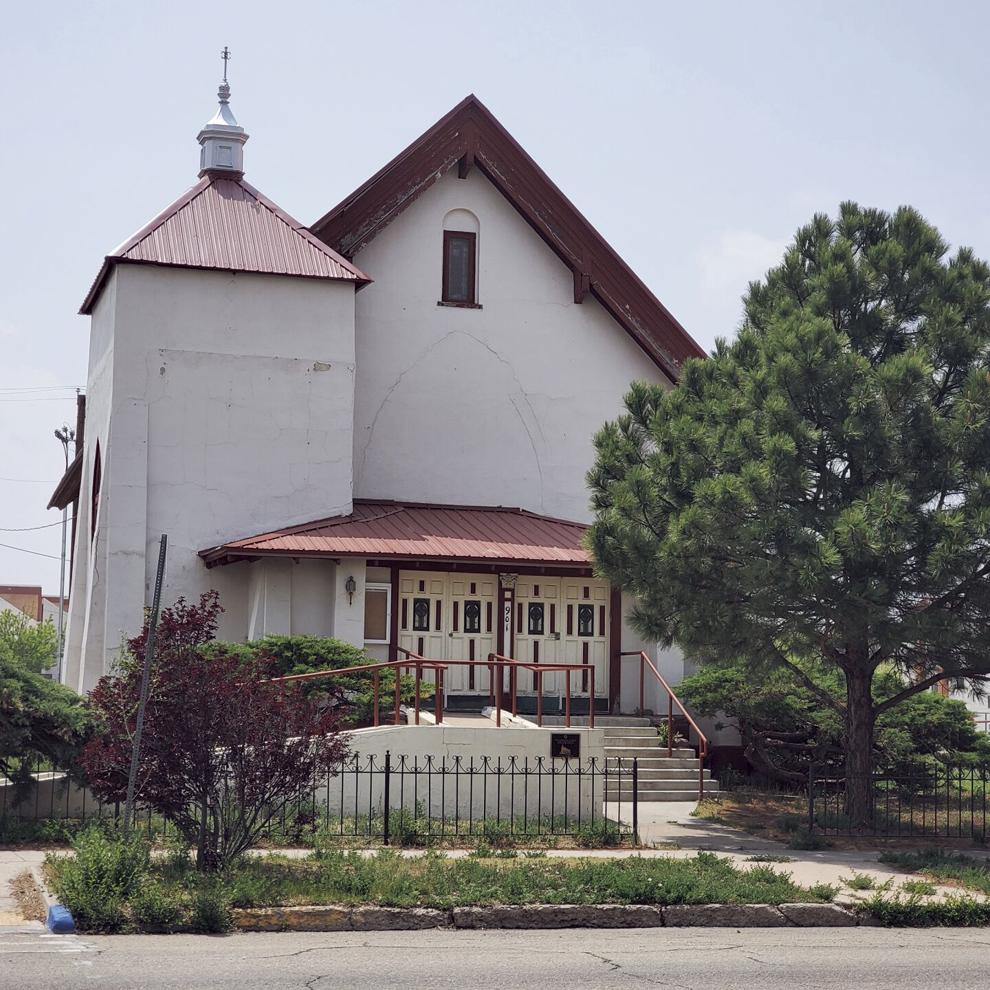 An integral part of Las Vegas history has recently returned to its original ownership.
Temple Montefiore – the first Jewish congregation in the New Mexico Territory – served in recent years as New Mexico Highlands University's Newman Center.
A Newman Center on a college campus is a place that generally provides ministerial services to the Catholic community.
The structure was built by Las Vegas' early Jewish settlers in 1886 on Douglas Avenue, four blocks away from where it's currently located at 901 Eighth St., said Jim Terr, publicist for the fundraising project to buy the temple back. 
The building is, in fact, a relic of an era when Las Vegas was a bustling economic hub and its prominent Jewish community needed a place of worship.
Descendants and extended family of those early Jewish settlers who built the temple recently helped raise the funds to buy it back from the Catholic church. A rededication celebration in December and a Founders Day event at the temple on May 6 marked this critical change in ownership.
"Founders Day was conceived as a way to honor the descendants of the founders of the temple," said the event's co-organizer, Nancy Terr, who is also Jim Terr's sister. "And to show our appreciation of the support of bringing the temple back."
Many of those who attended Founders Day could say they were descended from notable Las Vegas families, including the Ilfeld family, the Taicherts, the Vorenbergs, the Wertheims and the Nordhauses, Nancy Terr said. 
Terr said she co-organized the Founders Day event with Larry Ilfeld, a descendant of prominent businessman Charles Ilfeld. 
"(Larry Ilfeld) helped me get in touch with a wide circle of relatives," Terr said. "He invited all the Ilfelds and Nordhauses to come."
The story of Charles Ilfeld and his importance to the city's economy stands as an example of how intertwined Las Vegas history is with the history of Jewish settlers. Ilfeld's story was detailed in a speech delivered by Albuquerque-based Rabbi John Feldman during the Founders Day event.
Jim Terr filmed Feldman's informative speech. Titled "Rabbi John Feldman: Early Jewish History of Las Vegas, New Mexico," the video is on Jim Terr's YouTube channel along with other videos related to the history of Las Vegas.
Feldman began his speech by thanking members of the Terr family, stating that the crowd that had gathered at Temple Montefiore that day would not be there if it weren't for the Terrs' efforts. Then, he directed his attention to the crowd.
"Some of you are connected to these historic families," Feldman said. "Some of you are relative newcomers, having only been here 30, 40 years, but everyone has some reason to be here today."
Feldman relayed information on the importance of early Jewish settlers to the area.
"I want to do something that feels to me almost impossible," he continued. "Which is, to give you some feel for what I know of the Jewish community of Las Vegas and the environs, because it really was the epicenter of Jewish life in New Mexico, and Colorado, and the panhandle of Texas."
Feldman said Charles Ilfeld came to the area from Germany at the age of 18. Feldman noted that, despite not having much schooling, Ilfeld became a prominent figure in business. 
"In practically every village from Colorado south, there was some little store that was set up with stock from and with doing business with the Charles Ilfeld Company," Feldman said. "(It) really was the mercantile centerpiece of New Mexico's economy."
Feldman gave a snapshot of the New Mexico territory's economy at the time, an economy that was leaving the feudal "patrón" system behind, replacing it with the "partido" system that allowed a chance for the poor to better themselves.
"New Mexico was a practically feudal economy," Feldman explained. "There were certain families that were known as ricos, the wealthy people who would own large swaths of land, and people would work for them." 
"People would make their lives by growing and providing food and sustenance for themselves," Feldman continued. "It was not a way in which people could build themselves individually. There was no capacity to do that under the patrón system."
"Under the partido system, things shifted, allowing people to get on credit the things that they needed to start a little store," Feldman said. This allowed for a goods-based economy versus a cash-based economy.
"That's why it's a mistake to think of Charles Ilfeld as … being involved in banking," Feldman said. People were not going to Ilfeld to get a loan, he explained. Rather, they went to him when, for example, they needed materials to grow their crops. They would then give some of these crops to the Ilfeld company to be sold.
Ilfeld's ability to trade was not limited to crops, Feldman said. "Part of Charles Ilfeld's genius was that he could commoditize anything in New Mexico."
Feldman said that, thanks to this way of doing business, people were able to flourish. 
"It was far beyond the notion of a bank," Feldman said of Ilfeld's business. "People could go to Charles Ilfeld Company for all kinds of purposes and it was a symbiotic relationship."
Like many others at the Founders Day event, Feldman descends from a Jewish family that gained prominence in the area: the Taicherts. Jim Terr said that Feldman's great-uncle, Milton Taichert, was a Spanish- and Yiddish-speaking businessman. Nancy Terr said Taichert coordinated the sale of Temple Montefiore in 1957. It was then that the building ceased to be a synagogue and became property of a church, then property of the diocese of Santa Fe. 
 Taichert was a record keeper, Nancy Terr said, and many of the documents and photographs he kept – artifacts related to Las Vegas' early Jewish community – are now in the hands of Feldman. There is a desire to house these documents and photographs in the house next to Temple Montefiore. 
Jim Terr said there are hopes to create a safe place for the documents and artifacts in Feldman's possession and display them to the public.
"It could be first class," he said. "It could become an attraction."
Nancy and Jim Terr both estimated that Temple Montefiore's original congregation was at some point 40 families strong. Then, in the 1950s, the congregation began to dwindle as Las Vegas' Jewish population declined, Jim Terr said. 
Even after its sale to the diocese of Santa Fe, the temple building could still be rented from the Catholic church to host a variety of events, Nancy Terr said, including Jewish services. She said her own son had his bar mitzvah at the building. 
The Las Vegas Jewish Community, a local, nonprofit organization, helped spearhead the fundraising effort to buy the building back. The effort involved many phone calls, Nancy Terr said, as well as a GoFundMe page. The fundraising began in mid-August 2022. 
Around that time, Nancy Terr said, a phone call was received from the lawyer of the Santa Fe diocese, stating that he knew the group wanted to buy the building back and that the right time had come to do so. The Las Vegas Jewish Community was able to raise enough money to purchase Temple Montefiore with donations that poured in from around the world. The group was able to close on the sale on Sept. 26. 
"It was bizarre, it was intense," Nancy Terr said of the whirlwind fundraising campaign. On the date of the sale, she said, the building went back to being a synagogue. 
Nancy Terr said there was a rededication ceremony on Dec. 18 – the first day of Hanukkah.
Hanukkah, which means dedication in Hebrew, is a holiday that marks the rededication of the Holy Temple in Jerusalem in the second century B.C.
Nancy Terr said the temple does not have a steady rabbi, but will have a visiting rabbi conduct needed services. She hopes to see life at Temple Montefiore again.
"The Las Vegas Jewish Community looks forward to many events and services (at the temple)," she said.
For more information about events, visit jewishnewmexico.com.