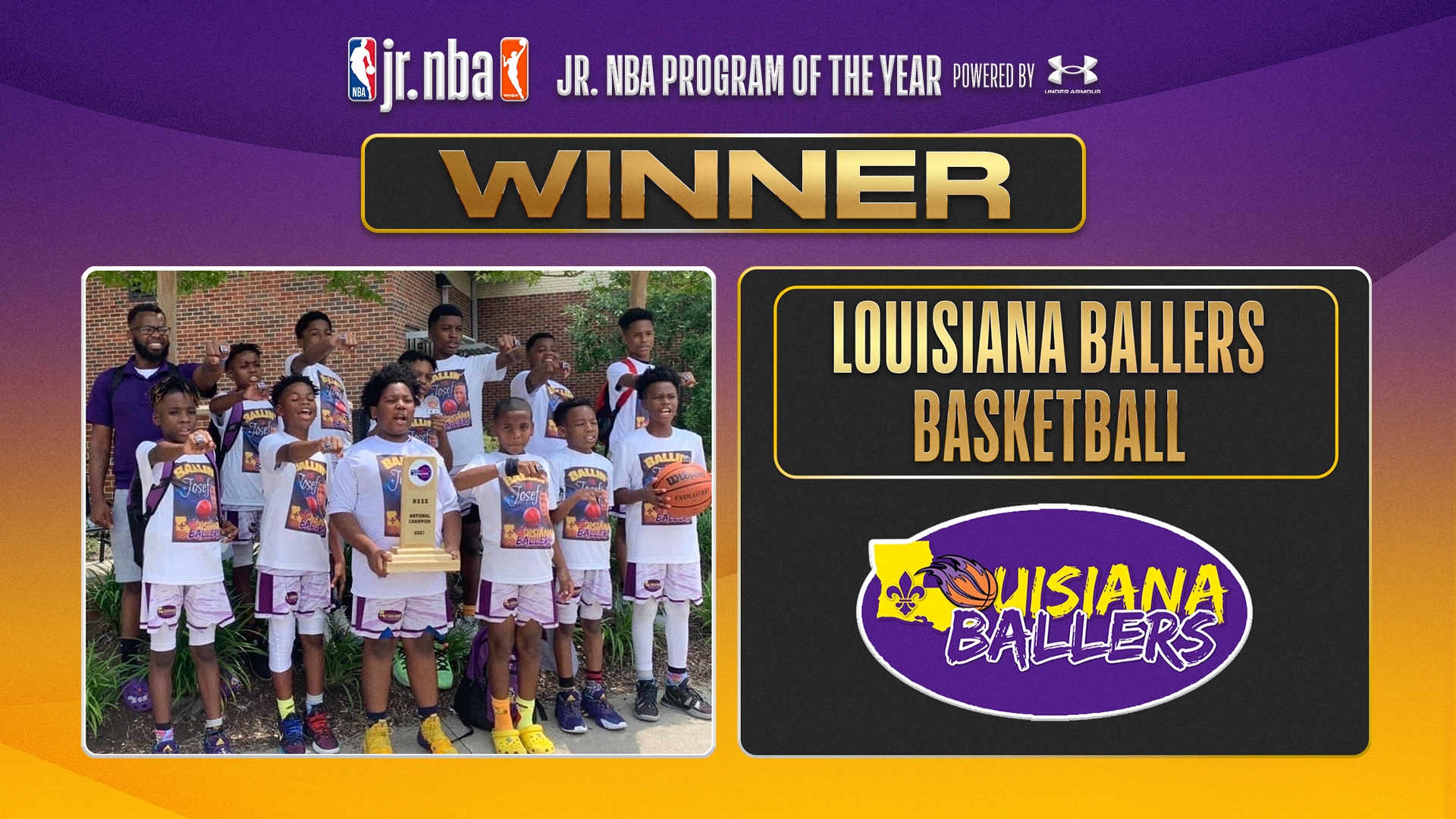 The Louisiana Ballers have been named the 2023 Jr. NBA Program Of The Year powered by Under Armour in recognition of their commitment to keeping young people connected to the game of basketball while focusing on promoting life skills development, mental wellness, sportsmanship and social justice.
Reynard Douglas, a teacher at Scotlandville Pre-Engineering Magnet Academy in Baton Rouge, said he founded the team in 2010 to create opportunities for young people in Port Allen to have fun with their peers and enjoy the benefits of the sport while developing on and off the court.
"It's just love. I build that family atmosphere here — I tell them the real, what's happening," Douglas said. "There's more than that player — there's a person there."
Creating the organization proved difficult at first — Douglas wasn't much older than the eighth-graders on the team in the first year. He remembered standing on a highway to raise money for practice jerseys.
That level of dedication along with the support of community residents helped the program take shape. It now reaches and impacts young people from parishes around the area.
The Louisiana Ballers organization is comprised of 50 boys and 20 girls. The team competed in the Jr. NBA Global Championship South Regional in 2018 and plays games against other local organizations.
Douglas said the team regularly meets up off the court, which helps build camaraderie. In addition to attending church together, they have an annual party for players, coaches and families.
"My pastor knows — I miss a lot of Sundays because we're in the gym a lot. So, he's like 'I already know — when you have an extra weekend, bring those boys in,'" Douglas said. "And we come, and we all sit together … it's a family, that's all I can say."
The team offers a chance to safeguard young people from crime and violence. Douglas mentioned he's focused on offering guidance, working to "keep them together, keep them motivated to want to play."
"If they don't go to the next level, they have those life lessons that are going to teach them 'this is right, and this is wrong,'" Douglas said. "So that's what we're doing — we're teaching life lessons. Through basketball and community events, we're teaching life lessons."
The Ballers were selected from a pool of six finalists nationwide for their commitment to upholding the core values of the Jr. NBA — teamwork, respect, determination and community – through their work with young people and area residents, as well as a fan vote.
Representatives from the NBA's Youth Basketball Development team and the New Orleans Pelicans — including Pierre the Pelican — shared the news with Douglas on Tuesday.
Douglas offered his gratitude to local residents — including his grandmother, who is not usually inclined to pay attention to the internet — noting they had rallied behind the team and voted en masse.
The Pelicans lauded Douglas for his efforts, noting the pride and dedication involved in running any organization for more than a decade and the importance of sharing positivity through the game.
"We just don't think we're a New Orleans team. We're a Louisiana team and a gulf south team. [Having] programs like that available for youth, and raising up young coaches through the game of basketball is super important," said New Orleans Pelicans Youth Basketball Manager Jason Lapouble. "We're thankful for Reynard and programs like his that thrive and are really for the youth in Louisiana."
With the award, which includes a $5,000 grant and a $1,000 gift card from Under Armour, Douglas said he hopes the program continues to grow — particularly opening spots for girls — and help bring some shine to other teams across the state.
"I hope this will bring light to Louisiana programs," Douglas said. "It brings light to my program, but also the programs in the area that are doing great things. And just to the Pelicans as well – they're doing amazing! And now we can do amazing together."